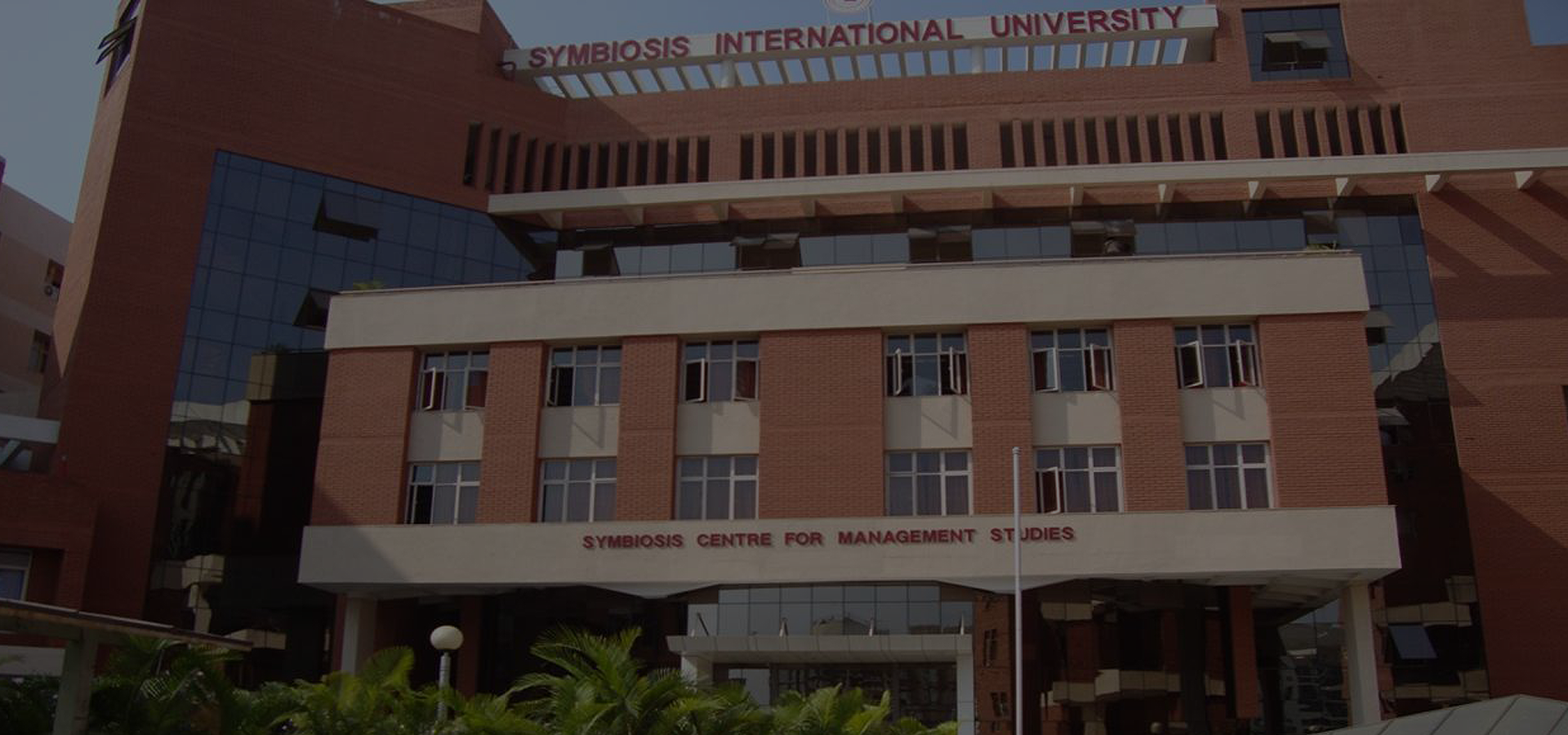 Ans:-Candidates who have appeared for XII or have passed XII or equivalent exam with 50% and above for Open Category and 45% and above for SC & ST Category are eligible to apply.
Ans:- Total 300 seats.
a Indian Student - 240
seats including reservation for (SC 15%, ST 7.5%, DA 3%) + 2 seats per program for Kashmiri Migrant.
b. International Students - 60 Seats
International Students may contact Ms. Rupali Chaudhari, Executive, Admissions, Symbiosis Centre for International Education, for information regarding the process of application and selection.
Contact No. 020 - 25671905, 25925311, 25925350, Website www.scie.ac.in
Ans: - Students are selected to UG Program of Symbiosis International (Deemed University) (SIU) on the basis of their performance in a single entrance test - Symbiosis Entrance Test (SET). It is therefore mandatory that a student register –
Ans: - Selection Process
Students will be selected for admission based on the cumulative score of -
Performance in the Symbiosis Entrance Test (SET) 50 % weightage.
Performance in Personal Interaction and Written Ability Test (PI and WAT- Both inclusive) 50 % Weightage
Overview of SET
SET (SET/ SLAT/ SITEEE/ SEED) is a common entrance test for getting admission into any of the courses / Institutes under Symbiosis International (Deemed University). SET is held in various cities (details available on web site www.set-test.org.) It is generally held on first Saturday of May every year. This year SET will be conducted on two dates Test-1May 6, 2023 (Saturday) at 11:30 am and Test -2 May 14, 2023 (Sunday) 11:30 am (Appear for any one Test only as selected by candidate)
Registration Process for SET
For appearing in SET, one has to do online registration.
Online Registration: For the current academic year the online registration will start from

January 11, 2023 (Wednesday) and closes by April 12, 2023 (Wednesday)

Registration fees: as specified on web site to be paid along with registration before the closing date for on line payment given under 'Important dates' tab.

Admit – Card: The admit –card for SET to be printed/ collected online by a candidate within the dates specified. Admit Card generation starts Test 1 from April 22, 2023 (Saturday) – Test 2 from April 28, 2023 (Friday)

Test Date:

Test-1 May 6, 2023 (Saturday) at 11:30 am and Test -2 May 14, 2023 (Sunday) at 11:30 am (Appear for any one Test only as selected by candidate)

The Test is conducted only once a year and this date cannot be changed.
Maximum Score: The maximum score for SET will be 150
SET Results: The set results will be declared on web site www.set-test.org on

May 24, 2023 (Wednesday)
Overview of PI-WAT
a. Online PI and WATis the next activity of selection process for BBA course offered by Symbiosis Centre for Management Studies (SCMS-Pune). Online PI and online WAT will be conducted separately at different dates. For Online PI & online WAT those candidates who have scored >= cut off marks and who have also registered for SCMS Pune will only be called for the PI and WAT process.
b. Online Written Ability Test (WAT) -The Test includes writing a short essay on a given topic (of general nature) The dates for WAT June 2 and June 3, 2023 (Friday and Saturday)(Note: Candidates has to book the slots for a particular date and session. Slot booking date and time will be announced later by SCMS, Pune website after declaration of SET results.)
c Maximum Score - Maximum score for online PI-WAT will be 50 marks.
d. Online(Personal Interaction) PI - This year PI will be conducted in an online Mode from June 5 to 15, 2023 (Monday to Thursday) (Note: Candidates has to book the slots for a particular date and session. Slot booking date and time for PI will be announced later through SCMS, Pune website after declaration of SET results.)

e. Registration for SCMS-Pune -Any candidate who is seeking admission to BBA course at SCMS – Pune, must get himself / herself registered with SCMS-Pune. A Candidate who has not registered with SCMS-Pune within the given dates cannot be called for admission process (PI and WAT) to SCMS Pune in spite of his/her having more than Cut-off score in SET. Hence one must get him/her self-registered as per following steps.
i. Online Registration - The candidate must get him/herself online registered on our Web site – www.scmspune.ac.in. For academic year 2023-24 Online Registration will start on January 11, 2023 (Wednesday) and closes by April 12, 2023 (Wednesday)
ii. Payment of Registration Fees -Registration fees as specified can be paid Online/ through Demand Draft. wef January 11, 2023 (Wednesday)
iii. Closing Date – The on-line payment of Registration fees for Institute (SCMS Pune) will close on May 22, 2023 (Monday)
iv. Call for PIWAT -The short listed candidates for online PI and WAT will be declared onMay 29, 2023 (Monday)for which candidates must visit our web site www.scmspune.ac.in.
v. Online PI Schedule -The PI this year will be conducted in an online Mode from June 5 to 15, 2023 (Monday to Thursday) and will be available to candidates for Slot booking through our website (www.scmspune.ac.in) giving the date and time. Shortlisted Candidates have to give their option for a date and slot till vacancy available on that date. Candidates not exercising their option will be allotted date and slot for PI depending upon the availability.
vi. Reporting for PI-WAT–Candidates must keep with them- soft copies of their documents as specified in the intimation for online PI e.g. 12th Mark sheet, Provisional passing cert from School and original Caste /category – cert with copy e.g. For SC/ST, as applicable.
Declaration of Merit –List - Based on the weightage of scores for SET and PI-WAT , the first Merit list will be drawn and will be declared on our web-site www.scmspune.ac.in on June 19, 2023 (Monday)
Ans:- No. BBA is a Non-residential course. One can stay as per his/her convenience.
Ans:-We have Hostel facility for Girl students within 1 KM radius and limited seats for boys in a Boys hostel. Due to limited seats available in the hostel, seats are allotted on 'first come first served' basis.
Email Id: -admin.svc@symbiosis.ac.in marking cc to samir.pawar@symbiosis.ac.in Phone Numbers: - 020-26557162,163,164. Mobile No. 808708504344
In addition Private hostel facilities exists within about 5 KM range.
a. Campus Facilities:-

Symbiosis owing to its exceptional track record is synonymous with excellence in all its sphere of operations and has been gaining in strength and admiration over the years. The state-of-art infrastructure, with its well-equipped spacious lecture halls, an ultra-modern auditorium, a well-stocked library and a well-designed Amphitheatre ensures that all supplementary aspects of learning are taken care of.

b. Wi - Fi Enabled Campus

The campus is Wi-Fi enabled which caters to the growing technological needs of the students. Access to the internet for research work and any other constructive purpose does not become a problem for the students.

c. Computer Laboratory

Computer lab supports and facilitates teaching, learning of its future managers and technocrats. Symbiosis Centre for Management Studies is equipped with state-of-art computing facilities to compliment classroom pedagogy.

d. Library

The Library at Symbiosis Centre for Management Studies houses some of the finest collections of books on management & related areas, periodicals & journals, newspapers, video CDs, DVDs that include numerous case studies, project work. The library accords open-access which provides the students with perfect ambience for learning.

e. Classrooms

Our well-furnished, spacious classrooms and lecture halls are equipped with audio-visual aids like LCD projectors. Classroom teaching thus becomes more interesting. Students are also encouraged to make Power Point presentations. This interactive teaching methodology not only involves student- participation but also builds their confidence.

f. BBA Course

Under the Cafeteria system in BBA course offered, a student has few core subjects and has option to select other subjects (out of elective ) to get his / her specialization.

g. Global Competence

Symbiosis has MoU with few overseas universities where our students are sent in fourth Semester under the semester exchange program to have international exposure.

h. Gymnasium

The campus has a well-equipped gym to have a in-house modern health club and fitness centre with the view to facilitate a holistic development of mind and body & for an all-round development of our students.

i. Amphitheatre

An amphitheatre has the capacity of 200 people at a time. It is the most sought-after place to have concerts, band competitions, street-plays, Dandiya evening etc.

j. Cafeteria & Mess

A multi-cuisine cafeteria and a Mess cater to the requirements of the students. While the services of the mess are optional, it is compulsory for students residing in hostels to avail of this facility.

k. Extra-Curricular Activities

We believe that students of Symbiosis Centre for Management Studies must go out with an all-rounded personality. We encourage them to give expression to their talent and hone skills for which there are various clubs and a student can join any of these club /clubs depending upon his aptitude and area of interest.

l. Music Room

A sound-proof music room equipped with all instruments required for a band and instruments required for Indian classical music is a heaven for the music lovers..

m. Sports

In addition to Indoor games, facilities for outdoor games e.g. cricket, Football, Tennis, volley ball and basketball are within our Campus area. Facility for squash/ swimming are available within University location.

n. Placement Cell, Audio Visual Room, Conference Hall

To carry out the placement activities for the final year students the college has a Placement Cell that organizes Industry –visit, training session on skill development. Most of the corporate presentation, group discussions and personal interviews are conducted within the campus in the Audio Visual Room and the Conference Hall.

p. Health Care

Symbiosis Center for Health Care (SCHC) is an in-house Health Care Centre exclusive to the staff and students of the various institutes of Symbiosis. The SCHC has a team of specialist doctors who conduct the (compulsory) annual check-up of every student. A medical officer of SCHC is stationed in our campus at Viman Nagar for Curative health care that includes medical OPD, referrals to consultants and emergency hospitalization. The centre also arranges seminars & health education workshop.

q. Insurance

Every student at Symbiosis is covered under a unique and novel medical insurance scheme. The student is covered for hospitalization (in the empanelled Hospitals) up to Rs. 50,000 in case of non accidental emergencies (as per the Mediclaim Insurance Policy) &Rs. 1,00,000 in case of Rail/Road traffic accidents.

r. Reprography Centre

Printout/ photocopy facilities are available for the students at the reprography centre within the campus.
Ans:- About 100 students generally seek assistance for placements while others go for higher studies . Our Campus placement has been about 96%.
Ans:-In the BBA course any student must have minimum 75% attendance as per our university norms to appear in the semester examination.
Ans:- Specifically there is no sports quota for admissions, however due weightage is given during Personal Interaction (Part of PIWAT). All students seeking admission to MBA program have to appear for SNAP held for entrance test for MBA programme.
Ans:- SCMS is a Department of Symbiosis International (Deemed University).
Ans:-The college timings are generally 9 am to 4 pm however it may vary from 8.30 am to 3.30 pm from Monday to Saturday
Ans :– The First year Course starts from July 14, 2023 (Friday) tentative with Induction and Orientation Program.